THE FIRST DATE. Butterflies in the pit of your stomach. It's the perfect mix of excitement and stress. Well, you want everything to be perfect on your first date, whether it's the venue, food, or outfit. Well, to flaunt the most special look and make a great first impression, you need a look that won't let you down and makes you look great. Enter Pinsy: where good support and comfort are instilled in each garment. These shapewear bodysuits can do wonders. They're the perfect bodysuit that helps you accentuate your curves and impart confidence.
So, make your date special with Pinsy shapewear for women. Read on for the best first date shapewear picks:

Smoothing Lace Shapewear Bodysuit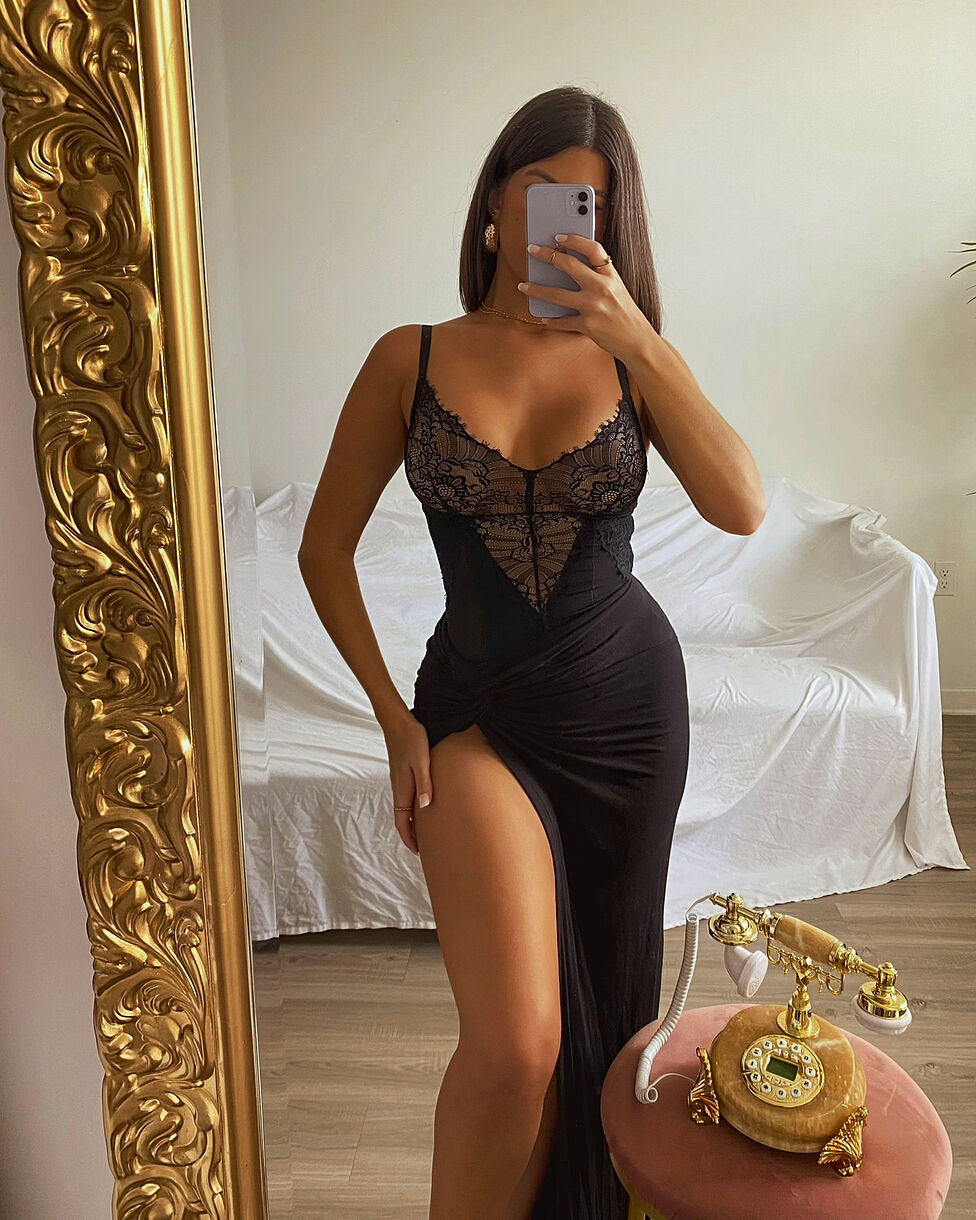 A Smoothing Lace Shapewear Bodysuit is the perfect shapewear for any first date and for any woman. It has a Powermesh built-in bra so that you can go braless and either flaunt that cleavage in a scoop neck or keep things covered up with a high neck. The amazing support and comfort will make you feel confident - so you can focus on the date rather than your appearance. You have enough to worry about! 
Moreover, this popular shapewear bodysuit features light shaping, which creates a subtle smoothing effect around the waist and tummy. The hook and eye crotch closure for bathroom breaks is super convenient too. Our premium lace, and light, breathable, and stretchable fabric make it the best fit for any outfit: from daytime, to date night. We think you'll agree this shapewear bodysuit is quite flexible.
Styling Tip
You can pair this sheer shapewear with gold earrings, heels, and clutch.

Also, it looks great with a blazer and skirt. You can add a mini purse, statement earrings, and tie-up heels.
Black Sculpting Lace Shapewear Bodysuit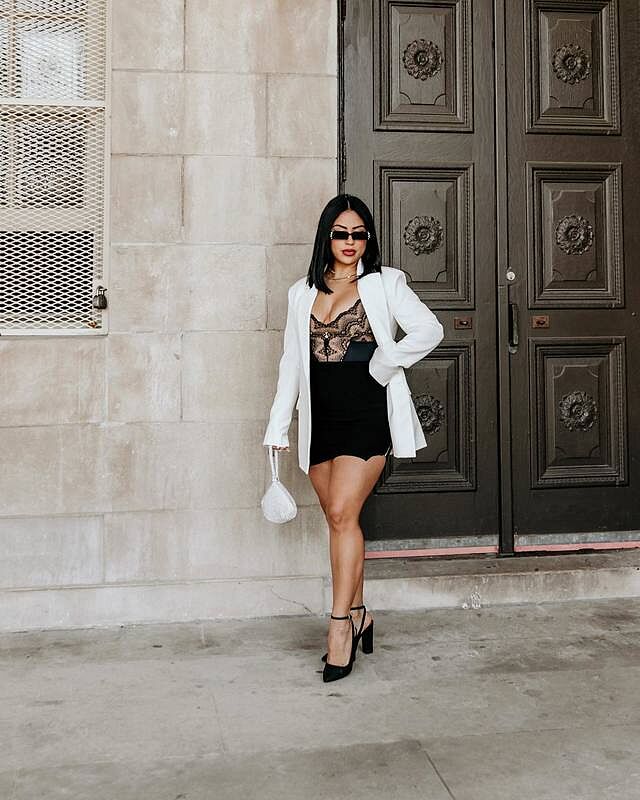 The Black Sculpting Lace Shapewear Bodsuit is the shapewear of your dreams. It features sexy lace details with a fully-lined plunging bodice and has medium to firm shaping power. It is hands down, our favorite to enhance your stunning curves in any outfit. Moreover, the built-in, wire-free Powermesh bra lines the bust area and adjustable straps lets you perfect the fit with ease. Plus, it has no dig lace on the hips so it's comfy AND gives that enviable hourglass shape.
The European sculpting fabric creates an incredible silhouette. The material's contouring, stretchability, breathability, and softness make it perfect for all day comfort. Ditch the bra and underwear too: it's a fully lined all-in-one bodysuit. 
Styling Tips
Show this baby off. Wear it as a top and wear your hair up in a sleek bun to show off your gorgeous figure. 

Pair it with a skirt and a stylish jacket to create a chic and polished look.
Hourglass Solids Bodysuit
Pinsy's Hourglass Bodysuit Collection are available in all colors and styles. From scoop to spaghetti, we have it all! Our favorites are Spaghetti Hourglass Shapewear Thong Bodysuit and our best-selling Scoop Tank Hourglass Shapewear Thong Bodysuit. With this variety of necklines, you have unlimited outfit choices. For example, the scoop neck style dips low in the back, making it an almost backless shapewear bodysuit. 
Pinsy's premium colors, 360° shaping and sculpting around the tummy, and high end fabric makes them the best. It feels amazing to break out of the confines of the shapewear of old. Now great shapewear is available to all: from plus size bodysuits to small. We've got you covered from size 2 to size 28. 
Styling Tips
Pair it with a cute cardigan and jeans for more of a semi-formal date

You can wear a sexy satin skirt that enhances your body shape perfectly.
Vegan Leather Bodysuits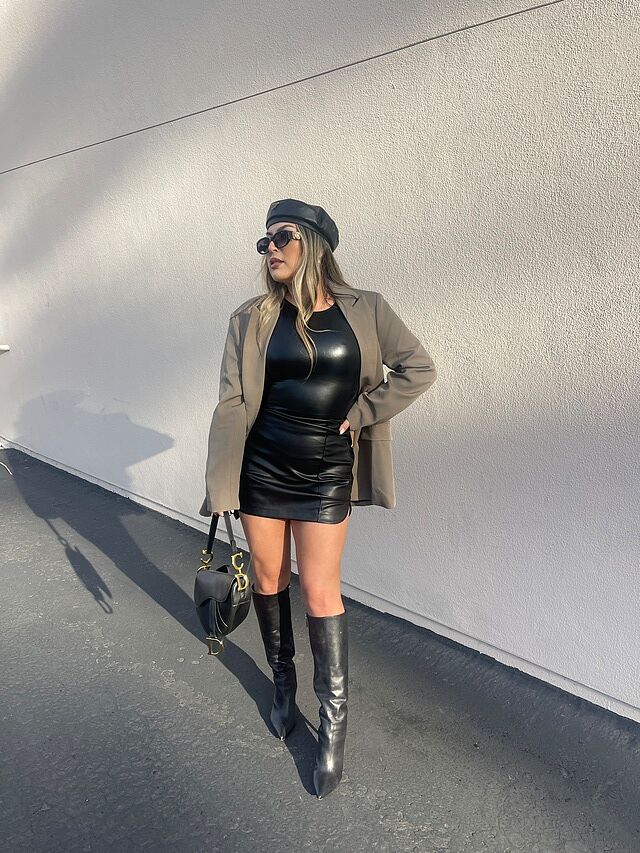 Vegan Leather Bodysuits are perfect shapewear bodysuits. They have firm shaping, which smoothes and sculpts your body perfectly. What's more, the high neck or scoop tank necklines make them great wardrobe staples. Their cheeky butt make them comfortable for all day wear too. It is better than the best slimming cami AND makes great plus size shapewear.
The Vegan Leather High Neck Shapewear is made from the softest satin-matte vegan leather, which feels light and buttery. The firm shaping, great support, no dig underwear, and built-in bra make it the all in one perfect date shapewear.
Styling Tips
You can pair Vegan Leather Shapewear Bodysuits with wide linen pants and a jacket.

Also, it seamlessly incorporates into almost any style and provides ample support and sculpting.


Skipping the Bodysuit? Try the Shaping Bottoms.
Shaping bottoms are the best underwear to create the hourglass shape we all love. They're so versatile and trending and are available in high waist and ultra high waist styles. Pinsy's high waist tummy control panties help gently smooth the waist, muffin tops, and love handles. The extra comfort, shaping, and attractive design make it perfect for any outfit.
Pinsy bodysuits are a savior to rock outfits for any special occasion. The perfect fabric, built-in bra, and panties make them a 3-1 solution. Plus, the premium lace details and great fit elevates your style perfectly.Did you find out which looks best with your date outfit? Comment below!